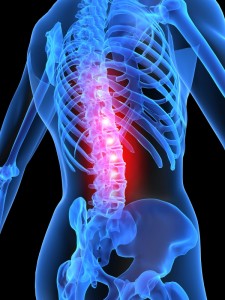 What is Chiropractic? The chiropractic approach to health care is holistic and natural. It responsibly addresses the relationship between the nervous system and "dis-ease" within the body.

The science of chiropractic is based on the fact that the essence of life flows from the brain, down the spinal cord, then out through a massive network of nerves traveling to every part of the body. This powerful life supply of nerve impulses, when flowing uninterrupted, gives us normal and natural health.

What is the cause of nerve interference?

Chiropractors have led the way in pointing out that displacements of the vertebrae in the spine can pinch or irritate the spinal cord and/or spinal nerves, thereby block the flow of vital communication between the brain and body. These displacements and subsequent neurological disruptions are called subluxations. Subluxations also cause abnormal posture, muscular tension and asymmetry, abnormal inflammatory reactions, and eventual degenerative changes in the spinal joints. Chronic nerve irritation will restrict the body's ability to maintain optimal health, and the cells, tissues, and organs will suffer. Many illnesses may be manifested due to abnormal body functions caused by subluxations.

How does a chiropractor fix subluxations?

Doctors of chiropractic specialize in detecting, locating, and correcting spinal displacements. Your chiropractor, once proper diagnostic procedures are performed, will place hands on your back and gently line up the vertebrae in their natural position. This process may take weeks or months depending on the nature and amount of misalignment. As alignment is restored, nerve supply begins to return to the body causing normal function to be reestablished. As your body heals, homeostasis is restored, and optimal health improves. Periodic checkups are recommended for maintenance of the spine. The frequency of wellness care for you and your family is unique and specially designed to the individual; consult with your local chiropractor.

Do I need a chiropractor?

The short answer is yes. The spinal joints are under constant stress, and generally have a history of traumatic events since birth. Neglect of the spine, more than any other single factor, is responsible for many of the unwanted conditions we suffer from every day. Therefore, getting a spinal checkup for you and your family is foundational to the health of the body. Optimal health is everyone's right, and chiropractic is the most effective way to reestablish nature's design for wellness. The drugless, non-surgical, and natural approach of chiropractic is not only safe for all ages, but might be what's been missing from your overall health plan. Your chiropractor may be the best doctor to help you and your family reach the health goals you deserve. Call us today for a FREE consultation.